Hi!
We are Brenda & Stefan. We have been together for almost 20 years and we are partners in everything we do. Our shared passions are travel, nature, food, good books and quiet afternoons. Despite our chilled nature, we have so far lived interesting and somewhat unusual lives and we would like to share our stories and knowledge with you.
This blog was created because we want to share all the things we love and care about. As vegans, we find it is sometimes a little more difficult to navigate in a world of non-vegans. Good information on how to find vegan products and restaurants is indispensable, whether you are traveling in a foreign country, or your own. Through On the Vegan Trail we aim to inform, educate, inspire and help you find your way in the world.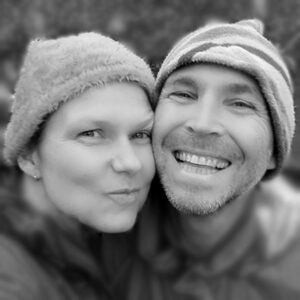 "It costs us so little to go vegan; it costs animals so much if we don't."
- Gary L. Francione
Stefan
Stefan is an enthusiastic and insatiable globetrotter. Born in the small country of The Netherlands, Stefan developed a taste for travel from a young age. Soon after graduating from University, the intensity with which he traveled increased rapidly.
Throughout the years, Stefan has quit several jobs to venture out into the unknown and to experience the ultimate freedom. So far, he has been able to visit 57 countries. While he has been to many countries, he has a strong love and preference for Myanmar, Japan, and New Zealand.
Stefan's blogs will mostly relate to his travel experiences. He will share (vegan) travel tips and review (vegan) travel products, accommodations and restaurants. In addition to being a vegan (since 2016), he is also a dedicated and addicted minimalist.
Brenda
Brenda is a versatile writer with a great imagination and an inclination towards exaggeration. She likes to follow her own path and to learn and discover things on the way. She has many interests, a lot of which involve food, nature and animals.
Running makes her feel alive and strong. Travel makes her feel small and humble. She has always had a fascination for people and cultures (that is why she studied Social Anthropology).
One of her dreams is to one day have her own place in nature, where she can grow her own vegetables and give cooking and health courses and perhaps live wrinkly and old with her partner and 20 rescued cats.
Brenda likes to write about health and food related topics and will share her tips and wonderful vegan recipes. She would also like to take you a spiritual journey and share her tips for a more peaceful and content life.