In a vast country like Myanmar, where the means for constructing decent roads are limited, and driving on these roads is not particularly comfortable, river transport offers a very good alternative. Although river transport is slow, it is cheap and perfectly suitable to transport bulk goods and lots of people. Plenty of people make a living boating on the Ayeyarwady river in Myanmar. I have been on the Ayeyarwady many times. It is a perfect way to slow down your pace and witness the Burmese lifestyle.
The lifeline of a country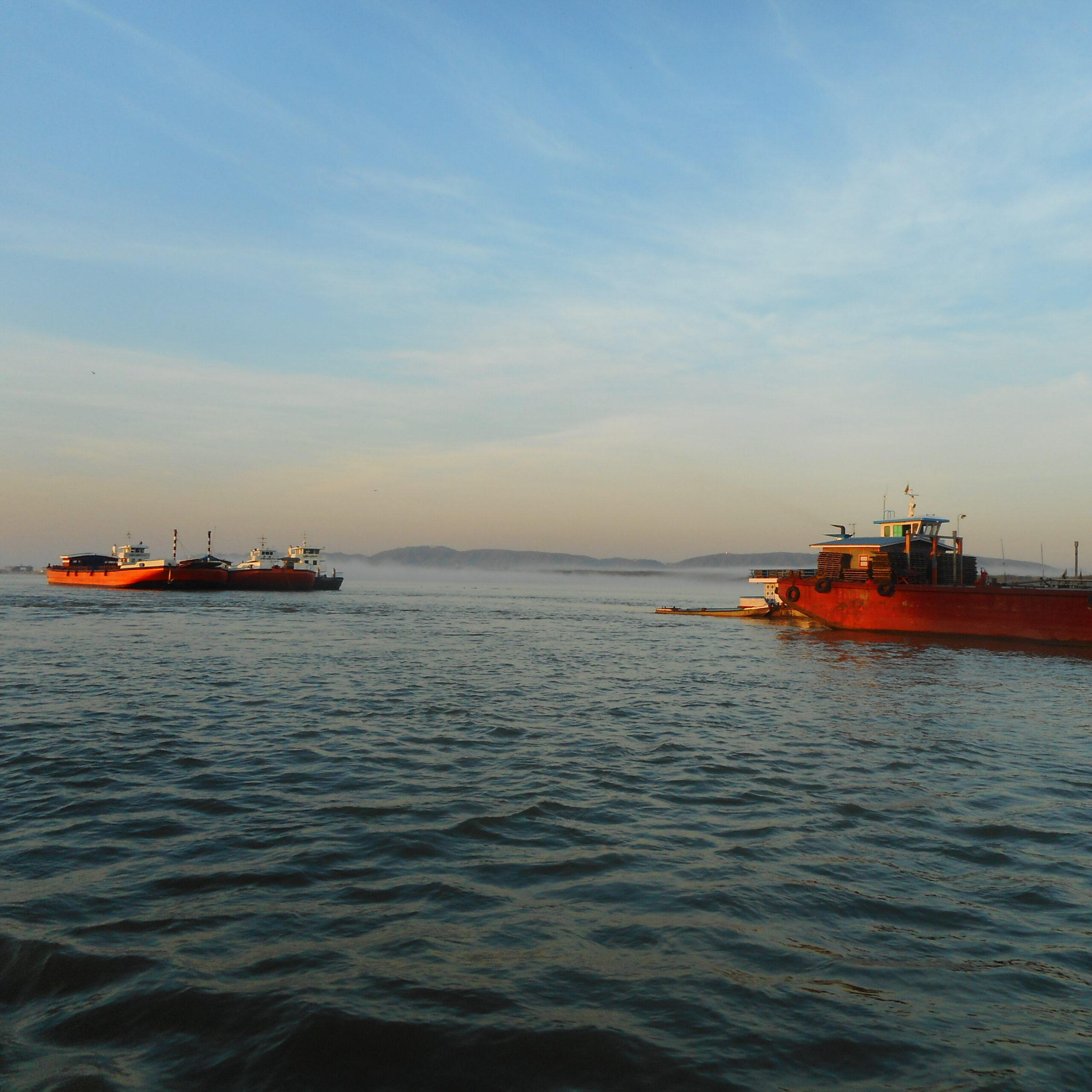 This majestic river runs from North to South and connects large regions of the country. Starting in the Himalaya Mountains and ending up in the Andaman Sea, it is the country's most commercial waterway. The most common goods that are transported on the river are rice and teak. Myanmar is one of the world's largest rice growers and also one of the world's largest teak wood exporters.
Goods are transported to the harbor in Yangon and loaded onto seagoing vessels.
The water level has a large variation, depending on the season. In the summer levels are high due to the rainy season and melting waters from the mountains. In the winter the going can be tough: the section North of Myitkyina is sometimes not accessible at all for cargo ships.
River cruises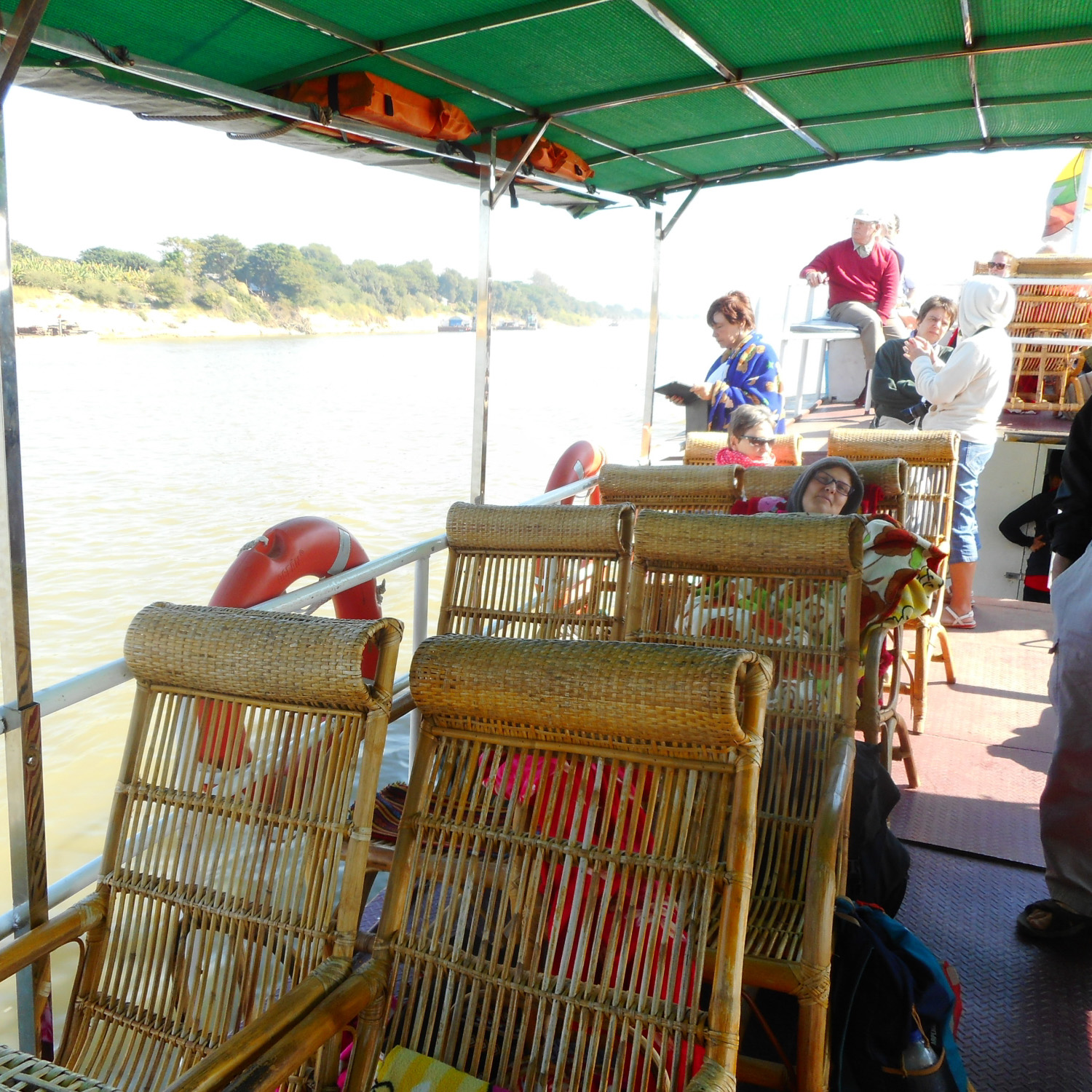 Spending time on the river can also be quite enjoyable, for instance on a cruise boat. You can go all out and do a multiple-day cruise and have your private cabin.
A more modest one, for instance, is a single day cruise from Mandalay to Bagan, like the one I did a few years ago. It departs Mandalay early in the morning, so you have to bring your own breakfast. Find a comfortable lounge chair on the upper deck and simply enjoy the view while Myanmar life slowly passes by.
The itineraries of the cruise companies claim to do the trip in 5 hours, but mine took a bit more than 7. Can you also do this trip in the opposite direction, but that will take twice as long as it is upstream. It is a bit cheaper though.
Lunch on these tourist trips is included. They will serve a vegan lunch on prior request, which is usually rice with vegetables. Food is commonly very vegan friendly in Myanmar, so unless there are pieces of chicken or fish in your meal, you can assume it is vegan. One of the companies who offers this cruise is Nma Hka Cruise.
You can also choose to do this trip on a local boat, instead of a fancy tourist boat. You get to meet a lot more Burmese people, but it will also take a lot longer as it docks in lots of places along the river. The seating will be less comfortable (plastic chairs) and no food is included.
Local ferries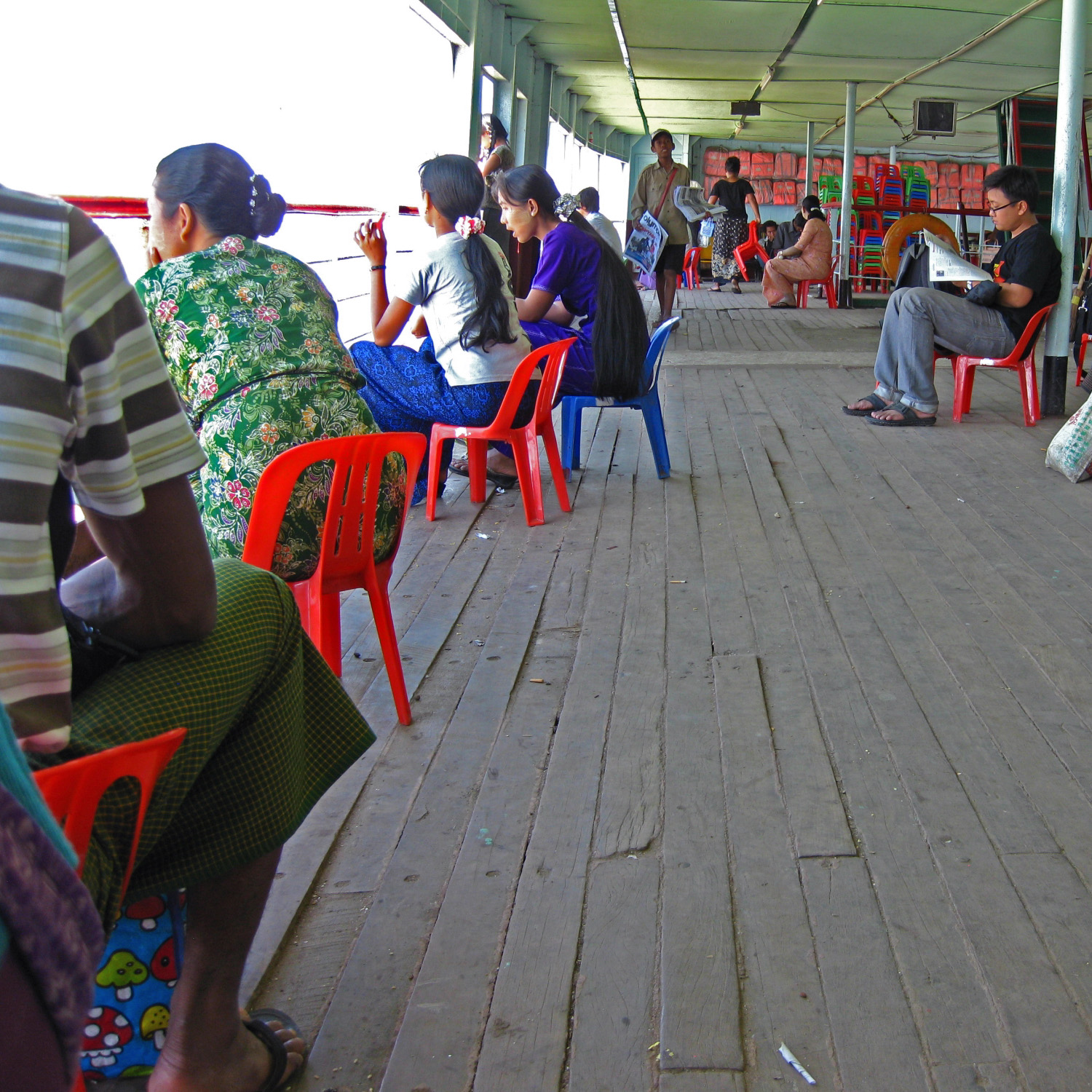 Bridges across the Ayeyarwady are scarce, so crossing it is mostly done by ferries or by smaller water taxis. When I first used the larger ferry in Yangon to get across the river to Dala it was quite an adventure. That was still in the time when the country had not quite opened yet to foreign tourists.
To purchase a ticket for the ferry I had to go into a special office where I had to show my passport. All details were written down. They wanted to know and register where I was going.
The seating on the ferry consists of a huge pile of wobbly plastic chairs. If you are fast enough you can get yourself a chair and put it on the deck. It only took about 10 minutes to get to the other side. All the while I was pestered by a scout to rent a tricycle on the other side.
Some facts about the Ayeyarwady River

The river was formerly known as Irrawaddy River but is now known as Ayeyarwady River.
It has a total length of 2,210 km (1,70 mi), running from the mountains in the North into the Andaman sea in the South.
Several hydroelectric dams have already been constructed, and more are scheduled to supply Myanmar and neighboring countries with electricity.
The Irrawady river delta is home to an abundant array of wildlife such as wild boar, elephants, leopards, tigers, the Irrawaddy dolphin and even saltwater crocodiles.
Boating as a way of living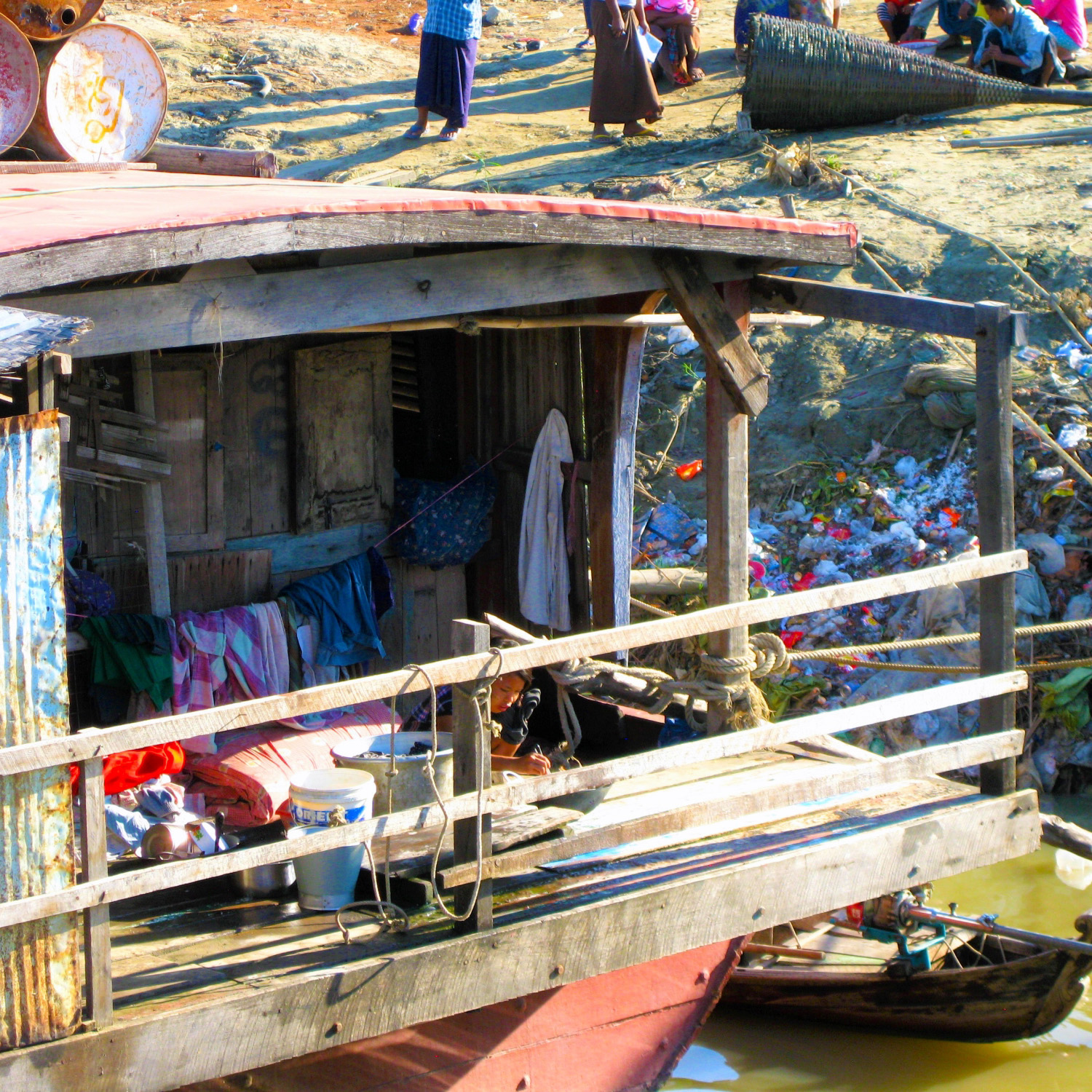 For tourists on a ferry or cruise, it is a nice day out. For the daily commuters or local Burmese people visiting family, it is just a means of transportation.
But for the captain and his family, it is also their house. Most of them actually live on the boat, including their entire family, and quite often some dogs as well. Don't be surprised to see infants sitting precariously on the edge of the boat.
And of course, the boat is also where you do your laundry and hang it out to dry.
Fishing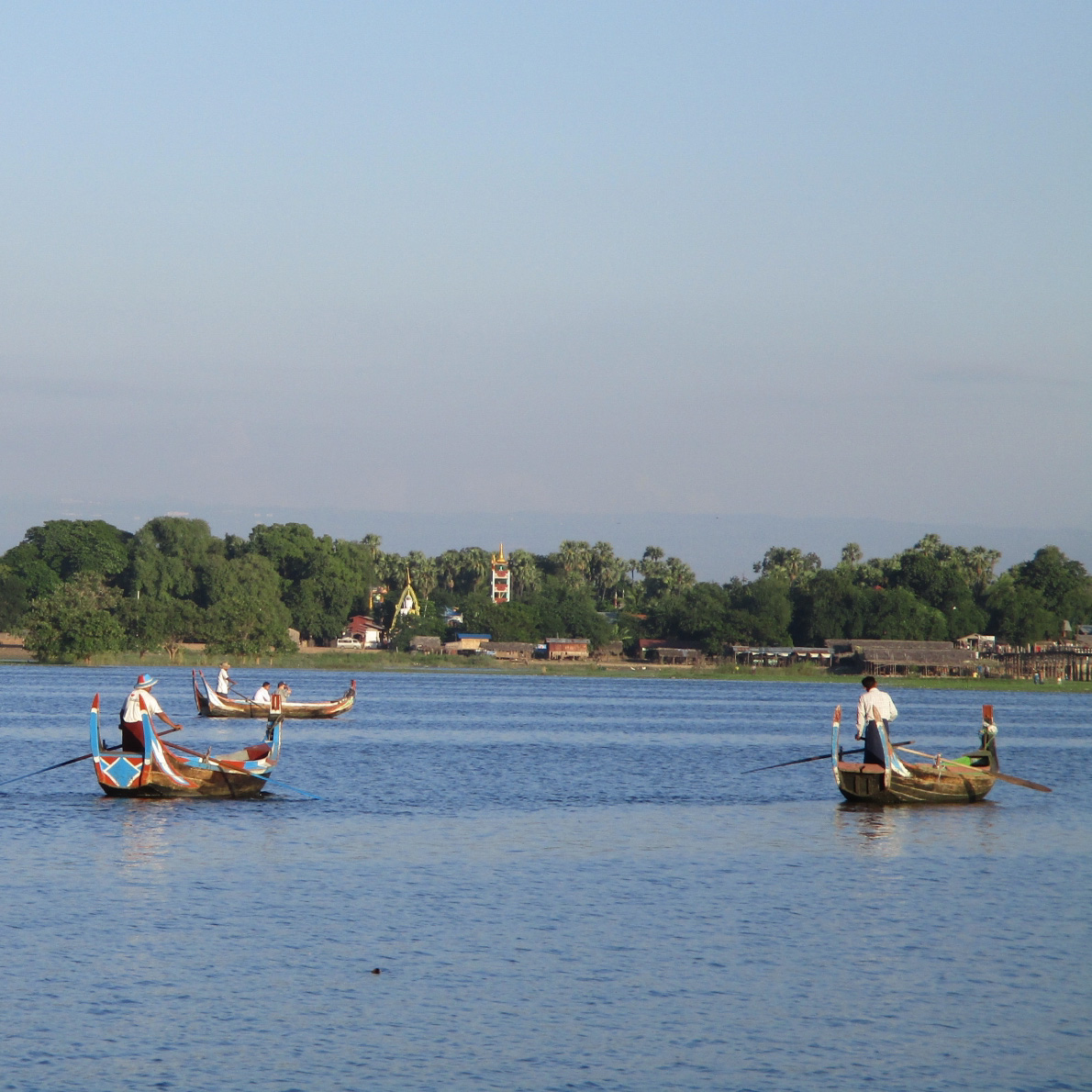 Where there is water, there is fish. And where there is fish, there are people who catch them for food. Fishermen still employ traditional methods of fishing. There are hundreds of species to be found in the Ayeyarwady, some of them are not found anywhere else on earth.
As a vegan I do not approve of catching animals, neither for fun nor for nourishment. But I have to be careful with being judgmental though, especially in countries where people often don't have other means for survival.
Go see for yourself?
As I write this article about boating on the Ayeyarwady, the political situation in Myanmar is quite precarious. The military Junta has taken possession of power again, and the country is on the brink of a civil war. I am not sure when it will be safe again to return.
Hopefully for the kind people of Myanmar, the situation will improve soon, so they can live in peace once more and invite foreign tourists once again.
If you happen to be able to visit Myanmar in the future, make sure to spend some time on the river. Relax, and enjoy the low pace of life and all good things Myanmar has to offer.
Please send me a message and let me know if you enjoyed life on the river as much as I did!
Hey there! If you enjoyed this article, please share it with your friends!