Monkeys bring smiles to most people's faces. They are funny, they are not shy of daring acrobatics and do embarrassing stuff. Especially when I was younger I enjoyed looking at monkeys. Now, a few years older and vegan, I look at monkeys from a different perspective. I am more concerned about their welfare than my enjoyment. During my travels, I have been to many countries with 'wild' monkeys.
Some of these encounters were great, others not so much. Decide for yourselves if these are monkeys you want to include in your next itinerary.
Monkeys in urban locations
Monkeys are not always hiding away in the wild, you can easily find them close to large urban centers. This is not always for the better, because it can make them more dependent on interaction with humans. If people are feeding them on a regular basis, they will get used to it and sometimes even demand more food.
I have come across monkeys in various urban locations in Asia, I have listed some of them.
Kathmandu, Nepal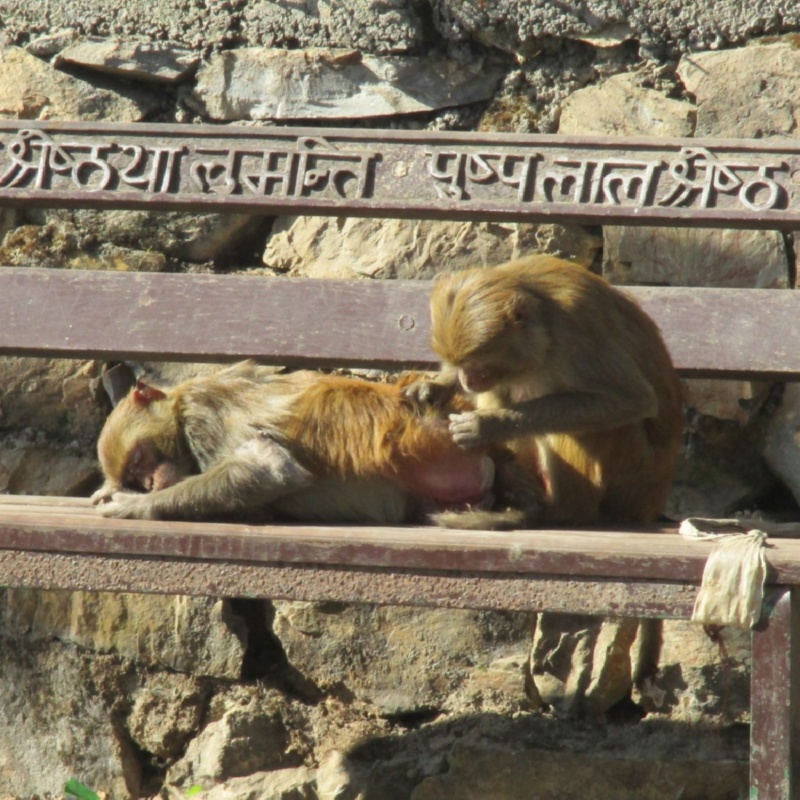 In Kathmandu, the capital of Nepal, there is a so-called 'monkey temple'. The official name is Swayambhunath Temple. It is situated right on the edge of the city center. As could be expected, it was swarming with monkeys when I visited. Most of them were on the long stairs to the pagoda at the top of the hill, the parks at the bottom of the stairs, rest areas, and benches. Well, you get the picture: they were everywhere.
When I was there in 2017, there were lots of baby monkeys. Very charming at first glance, but these babies also have to eat to be able to grow into healthy monkeys. The monks of the pagoda feed them regularly, as well as visitors and tourists do. They were not shy of people and did not bother me. They were not even looking for food, so they were probably being fed enough.
Kuala Lumpur, Malaysia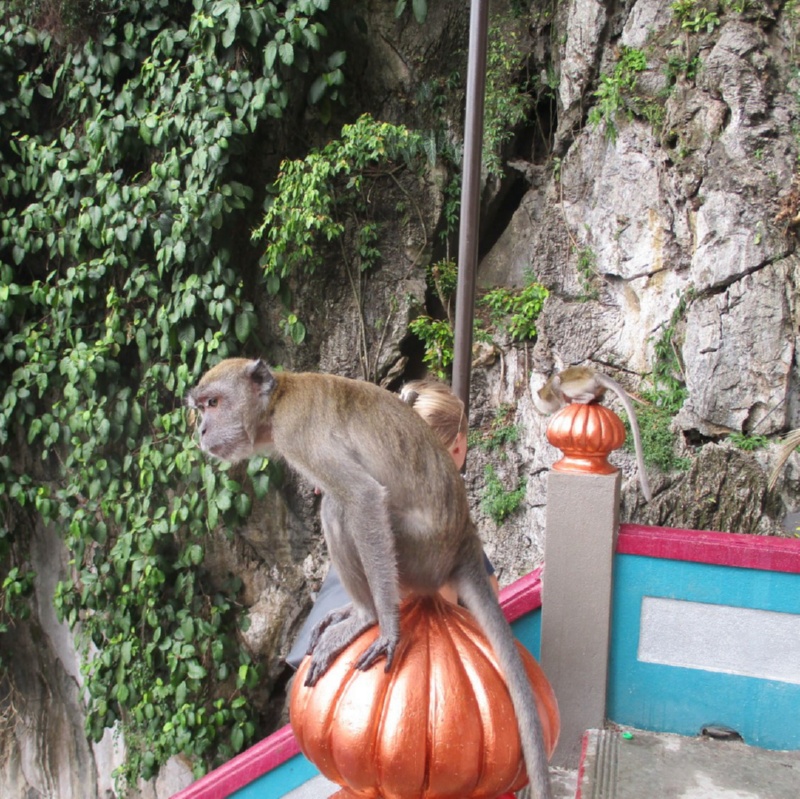 I was in Kuala Lumpur, the capital of Malaysia, visiting the Batu Caves. These caves are situated on the edge of this megalopolis. There is a train station right in front of them, so they are easy to visit.
That is where I encountered these guys (or girls, I couldn't tell ;-)), balancing on the railing of the giant staircase going up to the entrance of the cave. They were well aware of humans and would follow them up the stairs. Their behavior was fairly aggressive. Some of them would come close occasionally, so I kept my distance from them. People probably do feed them, because they were actively looking for food from tourists. They were certainly not a jolly bunch of monkeys.
Ubud, Bali, Indonesia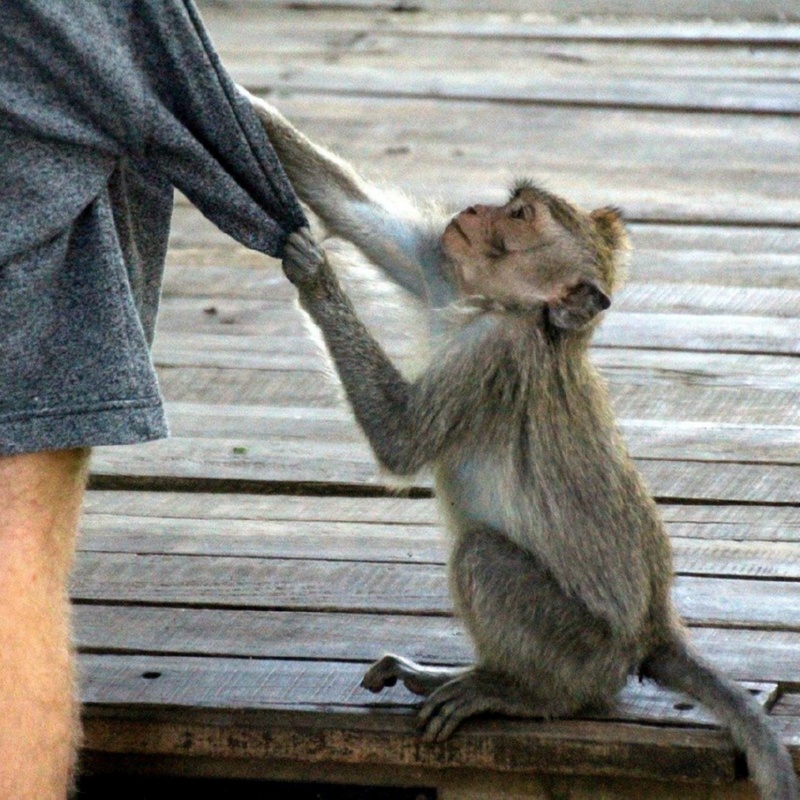 The enchanting town of Ubud on Bali has a 'sanctuary' called Monkey Forest. It is right in the center of Ubud. Not a major urban center in itself, but the town is very touristy and draws millions of visitors a year.
I had read some things about Monkey Forest before I went there, most of them not very good. Some people mentioned aggressive monkeys stealing food and other things. There is an entrance fee for the park, but monkeys are technically free to come and go as they please, so they also roam the streets around the park.
I sat at the entrance to the park for a while, trying to get a feel for the place. So as to give them no incentive to approach me, I had made sure I didn't have any food in my pockets or backpack.  Within minutes the monkeys had their eyes on me. One of them jumped on my backpack. I tried to scare them away, but that did not work. Unfortunately, I had to forcefully take my backpack from them. The next monkey stole my water bottle in the blink of an eye. They even knew how to open plastic bottles!
That says it all: they are too accustomed to humans and completely depend on them for food. Although I did not enter the park after this encounter and cannot comment on the conditions in the park, I would recommend you give this place a miss. This is not a true monkey habitat, but one created for the countless tourists that visit Ubud.
Monkeys in the vicinity of people
You can have encounters with monkeys further away from the large urban centers. Here, they are closer to their natural habitat. However, some are drawn to humans because that is where they can find food. Some humans feed them, so they get used to that. Often, though, the monkeys will just take from humans whatever they can get their hands on.
I have come across many monkeys, some encounters are more memorable than others. Some memories I have, are really sad because of the poor state some monkeys are in.
Mount Popa, Myanmar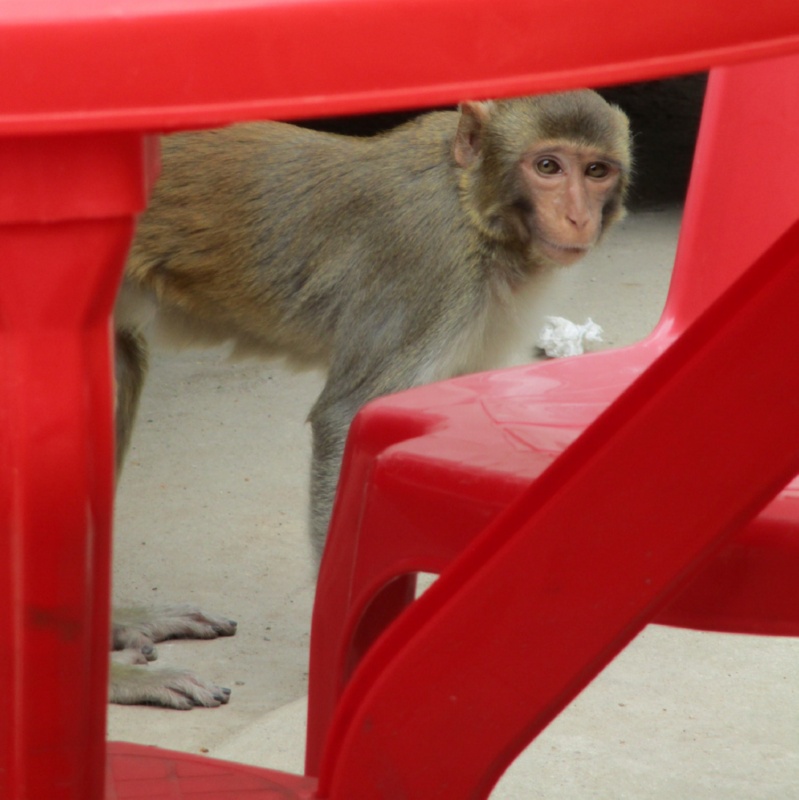 There are plenty of monkeys everywhere up and around Mount Popa, but it is a sorry state of affairs. Large amounts of monkeys are roaming around the stairs going up to the pagoda, and in the street below where the shops and restaurants are. They viciously attack each other to compete for food and territory. Many monkeys are badly wounded, limping, or even missing limbs. Often, they are very territorial and can be aggressive towards humans.
I have not heard stories about people being attacked by these monkeys, but one of them snatched an (unopened) bag of crisps out of my hands. They are clearly very much accustomed to the presence of humans and depend on them for food.
The population does not look healthy at all, I would avoid physical contact with them at all times. This is obviously not the best habitat for them. However, as long as human food is easily accessible, they will not leave.
Victoria Falls, Zimbabwe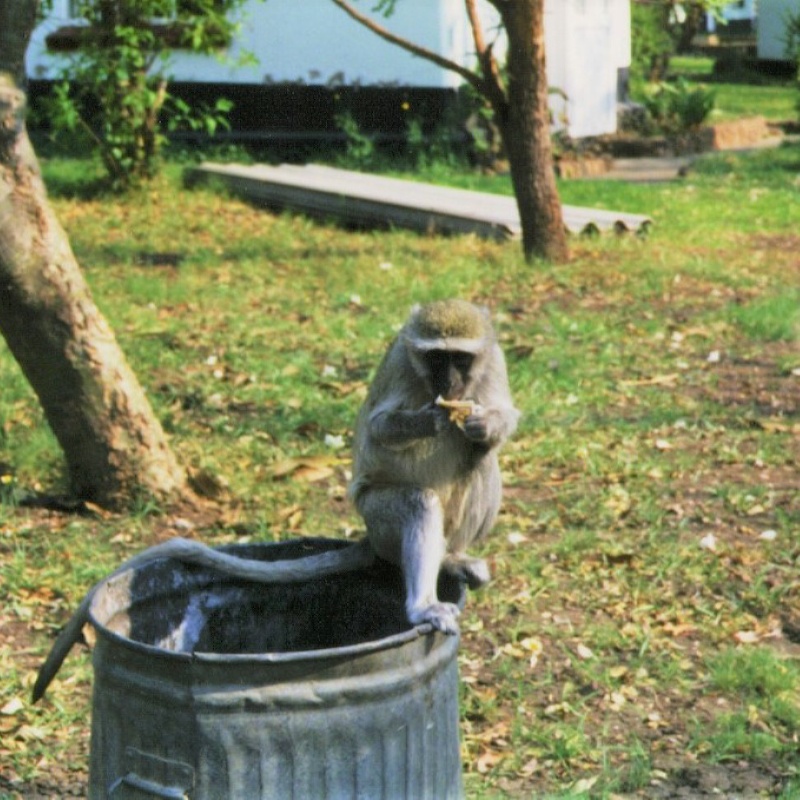 This was probably the first time I saw a monkey 'in the wild', so I was quite excited. I was camping in a tent in the town of Victoria Falls, near the spectacular waterfalls. Monkeys were everywhere on the campsite, looking for food. They were going through trash cans, looking for leftovers. I could not even leave my tent open because they would go in and steal stuff.
The monkeys were 'wild', but clearly depended on humans for their nourishment. Which is not good of course. Not in the least because human food is not suitable for monkeys. Some of it isn't even suitable for humans. 😉
Krabi, Thailand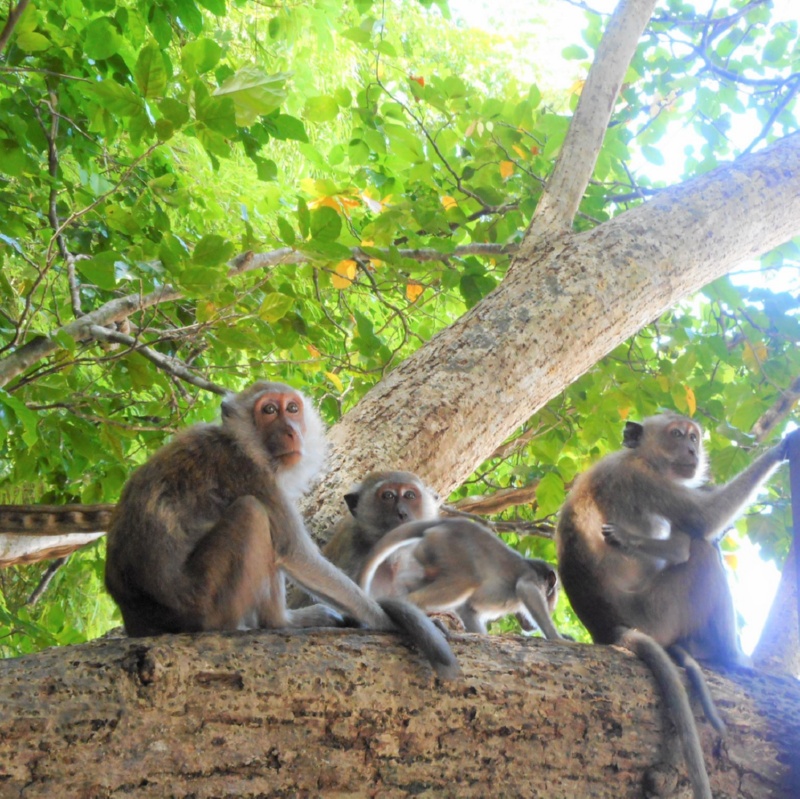 You will have no problem finding monkeys in Thailand. There are plenty of places where you will encounter them. Above all, you will hear them. You can hear the gibbons sing from miles away, while they swing from tree to tree. They have a lovely way of communicating, with their sing-song voices.
These monkeys on the photo (not gibbons) I saw in Krabi, on the west coast. They were sitting on a tree branch above a small hiking track along the coast, just outside of town and were clearly not afraid of humans. Close enough for me to touch them, which I didn't, of course!
Because they seemed so very comfortable so close to humans, it would not surprise me if people fed them occasionally. Luckily, they did not approach me for food. These guys looked quite content and undisturbed, as far as I could judge.
Monkeys closer to nature
In my opinion, the best place to encounter monkeys is in their natural habitat. This is where they thrive and can be monkeys without human interactions. The downside, of course, is that it will be difficult to see these monkeys on your holiday. They will most likely live far from where you are staying. Unless you are camping in the jungle of course.
The second best would be in an environment, close to their natural habitat. I have also been to some of these places. There, they are not completely devoid of human interaction, but close enough. Why don't you judge for yourself?
Hpa An, Myanmar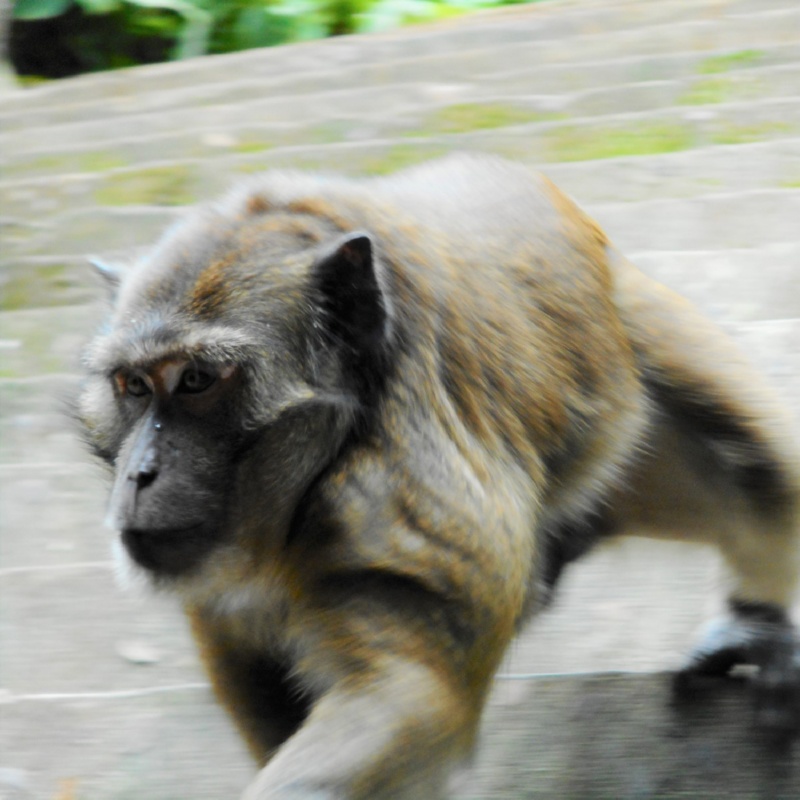 Hpa An is the capital city of Kayin state in the south of Myanmar, bordering on Thailand. The area surrounding Hpa An is littered with caves, some filled with Buddha statues. At some abandoned buildings on a hillside near Cawgun Cave, I saw a large family of monkeys. The area is still largely unspoiled by tourism, so they were careful to approach me. They did not come to beg for food or try to steal anything.
What they did do, is send this big guy for me to motivate me to stay away from the younger monkeys. I sat there for a while to just observe them. They just did their own thing and left me be.
Yudanaka, Japan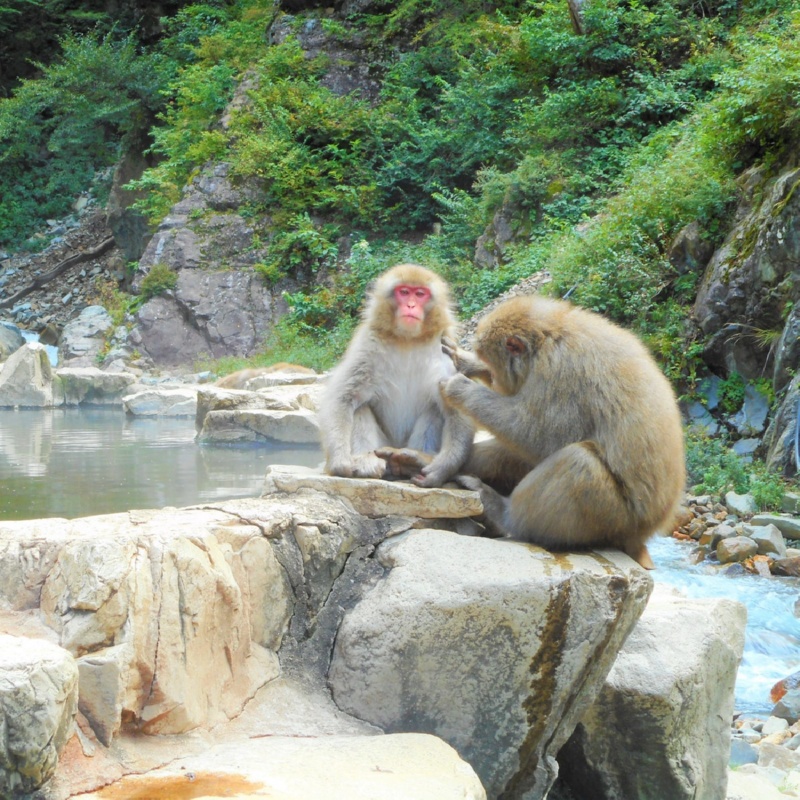 If you visit Japan, you can go and see the 'snow monkeys'. I am sure you have seen them in a brochure before: with their pink faces, covered in snow, while they sit in a hot spring.
I went to see these snow monkeys in Jigokudani Monkey Park, a little east of Yudanaka, Japan (not far from Nagano in the Japanese Alps).
You have to go to a park-like environment (with an interesting and educational visitor center) and pay an entrance fee. However, the monkeys are free to come and go as they please. They live in the adjacent mountains and come down the mountains during the day to enjoy the hot water in the natural hot springs. In the winter they will heat up in the water.
On the day I visited it was winter but not very cold, so the monkeys were not inclined to go sit in the hot springs. The only reason they came down the mountain was  because they were expecting food. Park employees prepared food to give to the monkeys. These park employees also threw food in the water, so monkeys would have to go in and grab it. I fear this was mainly done to entertain the visiting tourists.
So, although the monkeys come and visit on their own terms, they have been made dependent on humans for their nourishment.
Pyin Oo Lwin, Myanmar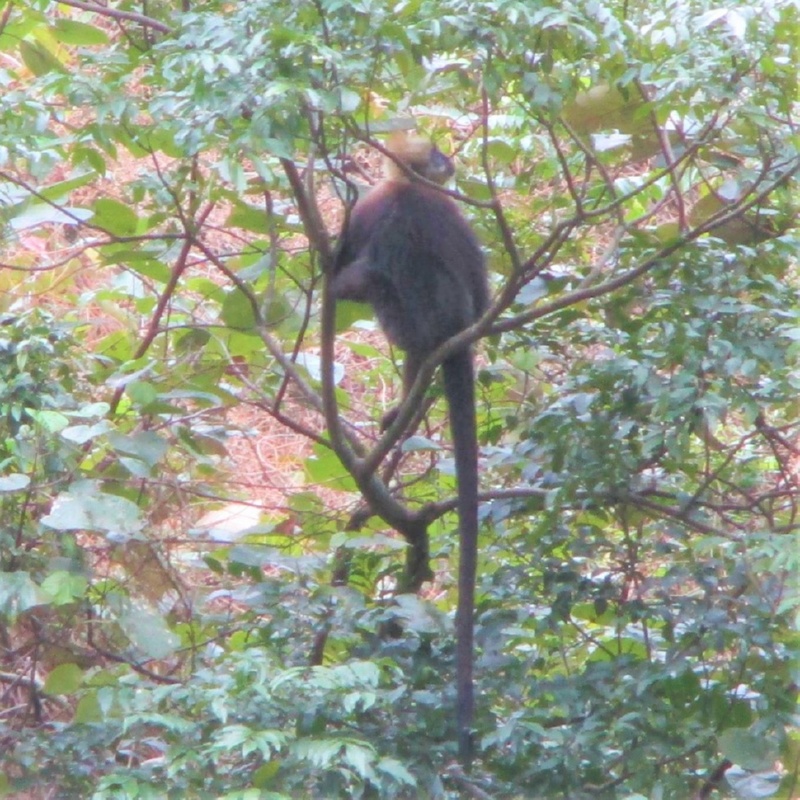 When I was walking around the botanical gardens in Pyin Oo Lwin, a little east of Mandalay (which is well worth a visit in itself), I encountered some gibbons (the swinging monkeys with long arms and tails).
I had already heard them singing from far away when I suddenly saw them sitting in the trees next to the road. Gibbons don't usually interact with humans, and neither did these.
They were not particularly interested in me and did not come looking for food. It was great to see them move around the trees with their long arms and legs, while they chanted their melodic messages to each other.
How to find 'ethical' monkeys
A far better option to see monkeys on your holiday, is to visit an 'ethical sanctuary'. In these sanctuaries, everything revolves around the animals, and not the people who visit them.
If you want know how to find a real sanctuary, have a look at the article I wrote about finding an ethical animal sanctuary. This specific article deals with elephant sanctuaries, but the same rules apply to monkey sanctuaries. The article on How to find ethical animal sanctuaries near you also has general rules for finding real sanctuaries.
It can be a real treat to see monkeys on your holiday. However, it can also ruin your day if you see how sad, mistreated, and in bad physical shape they are. Just keep in mind that these monkeys are not there for your entertainment, they are just trying to survive as best they can.
More interesting animals
If you like to read more about interesting and exciting animals, have a look at these articles:
Hey there! If you enjoyed this article, please share it with your friends!