Vietnam's capital Hanoi has many vegan and vegan-friendly restaurants. During my visits, I have discovered many great places to eat. These are my favorite places to eat vegan in Hanoi, all in or close to the old town. They are my go-to places when I am lucky enough to visit this amazing city.
Finding vegan food is essential for an enjoyable vegan trip. For more tips on how to travel vegan read this article.
Note: Due to the Covid-19 restrictions I cannot guarantee the reviewed restaurants are operating as usual. Please refer to their websites for information.
Jalus Vegan Kitchen & Cafe
Update: as of July 2020, this location is closed. According to their Facebook, Jalus hopes to open soon in a different location.
A cute little restaurant on Hang Trong, not far from Hoan Kiem Lake. The restaurant itself is on the 2nd floor. It's nicely decorated and has a number of tables inside, with aircon. If you are already used to the heat, or if you can't do without your smoke, you can also sit outside on the balcony, overlooking the street.
There is a great selection of hot and cold drinks, juices, and of course soy milk. For an all-day breakfast, you can choose from pancakes, a vegan omelet, and pumpkin soup with toast. There are about 12 different main dishes to choose from, various side dishes, and also dessert options such as chocolate cake or cheesecake. My personal favorite dish is the homemade potato gnocchi with lemon and thyme sauce.
Minh Chay Vegan Restaurant
Minh Chay is a popular and classy restaurant, just a little north of Hoan Kiem Lake. The decorations and atmosphere are very elegant, so is the extensive menu with vegan dishes. There is a wide selection of food options, including "seafood", noodle soups and noodle dishes, pasta, hotpots, vegetable dishes, and salads. For dessert, you can choose from ice cream, fresh fruits, and chia soup. There is also the option to order a set menu for a group of people including many delicacies. The last time I was there I had this braised tempeh with noodles, very yummy!
OM Yoga Studio & Vegetarian Restaurant
OM Yoga Studio & Vegetarian Restaurant, besides being a yoga studio, is a lovely vegetarian restaurant, with many vegan options. Seating is on the second floor, the entrance to the restaurant is in an alley and can be a bit tricky to find. They are situated a few hundred meters from the railway station. This one tops my list of favorite places to eat vegan in Hanoi.
The restaurant is very atmospheric with nice decoration, with wooden seats and lounge chairs. There is some reading material for when you have to wait for your food. Or you can just lounge a bit and relax.  They have a large selection of Vietnamese and western dishes such as noodles and pho but also bread and pizzas. You can choose from different burgers and salads and pick from a large tea and fresh fruit juice menu. My personal favorite here is the pesto pizza, it really is delicious!
Photos: OM Yoga Studio & Vegetarian Restaurant & On the Vegan Trail
Tam An Lac Vegan Restaurant
A modest eatery with just a few large tables, Tam An Lac Vegan Restaurant is situated in the back of an alley not too far from the railway station. They have an extensive menu with numbered dishes with pictures. There are 49 dishes to choose from, but not all of them can be ordered every day. Ask at the counter what is available that day. They serve mostly Vietnamese dishes such as pho, spring rolls, fried noodles, banh bao but also western dishes such as spaghetti and french fries. For drinks, they have fresh fruit drinks or cashew milk. My fried vermicelli with vegan spam was really tasty, and there was plenty of it. I am not normally a fan of mock meats, but the spam was pretty nice.
The Note Coffee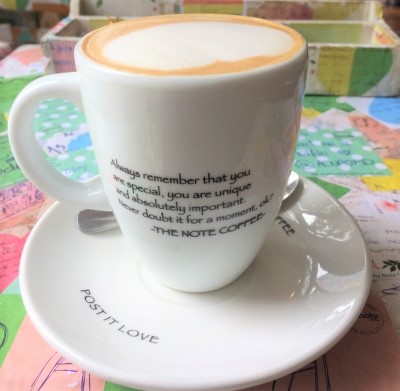 The Note Coffee is not a restaurant, and they are not even vegan or vegetarian. It's still one of my most favorite places to chill in Hanoi. They have an excellent selection of cappuccinos and mochaccinos with (vegan) soy milk. They do sell cakes but none of them are vegan (yet).
It's a tiny coffee place with 4 floors of seating, all with a phenomenal view. It's situated at the intersection of Luong Vang Can and Le Thai To, right on the edge of the lake. You have excellent views of the lake, the square in front and the lakeside boulevards. In the evening, music ensembles come out and play right in front on the square.
With your purchase, you get a note with a pre-printed message or one where you can leave your own message to the world. And you can stick it anywhere you want. The walls are full of thousands of notes. The staff is really friendly too.
Plenty more vegan restaurants out there
There are plenty more vegan and vegetarian restaurants and restaurants that prepare delicious vegan food. These ones did not make the list of favorite places to eat vegan in Hanoi, but I still wanted to mention them to you. All are in or near the Hanoi Old Quarter and within walking distance of most hotels.
Vegan Home
A tiny buffet-style restaurant on Trang Tien, near Hoan Kiem Lake. You can eat lunch for a fixed price of 75,000 VND. All food is prepared fresh in the morning.
Uu Dam Chay Vegetarian
A more upscale vegetarian restaurant near the corner of Pho Hang Bai and Ly Thuong Kiet. Very stylishly decorated with an extensive menu of very fine dishes. A bit more expensive than the average Vietnamese eatery.
An Lac Chay
A large all-you-can-eat style vegan restaurant, about 100 m from the railway station. For a fixed price of 99.000 VND, you can enjoy many delicious vegan dishes and mock meats.
Hey there! If you enjoyed this article, please share it with your friends!