Why Sweden is a Great Place for Vegans
When you think of Sweden, you don't necessarily think of a vegan paradise. The meat-loving Swedes take pride in their Swedish traditional dishes (köttbullar (meatballs), lax (salmon), sill (pickled herring)), many of which revolve around meat or fish. Popular vegetables, if served at all, are usually (mashed) potatoes, root vegetables, cabbage, or mushrooms. Other popular side dishes are lingonberries and knäckebröd.
However, you'd be surprised to see that Sweden has experienced a strong surge in veganism in the last few years. Apart from beautiful nature, interesting culture, and friendly people, you will discover a real vegan paradise here. Let me show you why.
1) Veganism on the rise
Sweden has seen a rather spectacular rise in the number of vegans in the last few years. Veganism is certainly gaining in popularity in this Scandinavian country. Whether it has something to do with Greta Thunberg and her work for the climate or a growing awareness in Sweden that animals are not food: there are many Swedish vegans.
According to a 2017 survey by Djurens Rätt, a Swedish animal rights advocacy group, ten percent of Swedes now identify as vegan or vegetarian, with two percent of the entire population identifying as vegan. Interestingly, the number of vegans has come down from four percent since 2014, while the number of vegetarians has since risen in response. However, one in every five Swedes under the age of 30 identifies as either vegetarian or vegan, while 50 percent of Swedish people report that they are more interested in eating a vegan diet now than they were just a year ago.
2) Most people understand what Veganism is
While in some countries it can be difficult to explain to people what veganism is, most Swedes seem to at least be familiar with the term. The need to reduce our footprint by reducing meat consumption is something the Swedes are not afraid to address publicly.
As a result, in the largest annual decline of meat consumption in nearly thirty years, Sweden consumed almost three percent less meat in 2017. In 2018, they even opened their first vegan school in the center of Stockholm.
Inclusive attitude
Sweden is a country with an inclusive attitude. This means Swedish laws are designed to provide options for all religions, allergy sufferers, and ethical groups. Secondly, there has been a lot of attention for health and environmentally friendlier alternatives in the media.
Not only does this make it a lot easier to communicate with people, but it also means there are a lot more restaurants and stores that are sensitive to vegan needs.
3) An abundance of vegan products in supermarkets
Although Sweden is lacking somewhat in the fresh vegetable department due to its northern location, the country makes up for it in an abundance of items with a long shelf life. You will find many different soy milk alternatives, kinds of butter, cheeses & spreads. Many types of bread and knäckebröds are vegan, as well as some types of cookies and chips (crisps).
Foods are conveniently labeled
Because Sweden is big on transparency, ingredients have to be clearly labeled. This makes finding vegan options a lot easier. As soon as you have learned the Swedish words for all the animal products to avoid, you will discover that finding vegan food is quite easy and straightforward. Many products also have vegan labels.
To check if products are vegan, you can use this vegokol app.

Dåliga Ord (Bad Words)
mjölk (vassle, kasein, laktos) = milk (whey, casein, lactose)
smör(fett) = butter(fat)
ost = cheese
ägg = egg
kött = meat
fisk (lax) = fish (salmon)
kräftdjur = crustaceans
blötdjur = molluscs
bivax = beeswax
schellack = shellac
gelatin = gelatine
L-cystein = L-cysteine
honung = honey
castoreum = castoreum
ullfett = wool fat
silke = silk

4) Vegan Made in Sweden
There are a lot of Swedish vegan food innovations and they are not shy about it. Many offer vegan products exclusively because they see veganism as a sustainable choice for the future.
A few of the companies have spread their popularity across Europe and other parts of the world.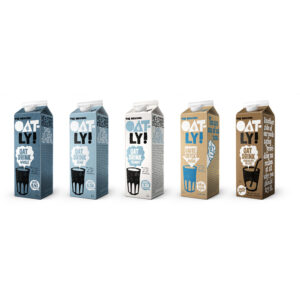 Oatly
Oatly is probably the most well-known of vegan companies to come out of Sweden. They offer vegan alternatives to dairy products. They produce a wide range of oat-based milk alternatives, creams, spreads, and ice creams. Some are limited to certain countries for the time being.
Oumph!
Oumph! has a wide range of tasty meat-free alternatives, such as burgers, sausages, kebab, etc. Their products are made from soy and pea proteins and are sold in supermarkets and restaurants across Sweden, with the UK and other markets expanding rapidly.
Peas of Heaven
Peas of Heaven is another non-apologetic vegan company that produces meat alternatives, such as sausages, burgers, and vegan sandwich meats.
VegMe
VegMe produces a wide range of vegan products from meat alternatives, to ready meals and sauces.
Astrid & Aporna
Astrid & Aporna (Astrid & the Monkeys) is a fun brand that sells meat alternatives with lovely designed labels.
Swedish Fika
Swedish Fika sells perfectly vegan souvenir cookies available in souvenir shops and online.
Vintage Plantations
Vintage Plantations produces handmade chocolate bars with weird and wonderful flavors. They do not advertise as vegan, but most of their bars are vegan, while a few contain honey.
5) A lot of restaurants offer vegan options
Although there are plenty of 100% vegan restaurants in the bigger cities such as Stockholm and Gothenburg, out in the country you will have fewer options. If you love fast food, however, Sweden will not leave you disappointed. A lot of fast-food chains in Sweden serve at least one vegan option, often more. Popular Swedish chains such as Max and Sybilla offer various burgers and fries and you will also find options at places like Pizza Hut and McDonald's. Mexican fast-food chains like Zócalo and Taco Bar even have vegan menus and serve vegan cheese.
In small-town restaurants, you will probably have to specifically ask for something vegan, but as many Swedes speak English and are happy to help you out.
The odds of not ending up with salad and 3 pieces of tomato are actually pretty good in this unexpected vegan paradise!
Hey there! If you enjoyed this article, please share it with your friends!